After the success of Lega Nord and Movimento 5 Stelle in Italy's recent elections, this week's fake news profile will be on Italy. Fake news thrives in countries experiencing political upheaval and Italy's recent political events make it a perfect breeding ground for fake news.
As with the US, fake news has always existed in Italy but increased suddenly in 2016 due to the Italian constitutional referendum. The referendum, which failed to pass 59:41 on 4th December 2016, would have seen Italy's political structure changed considerably.
After the referendum was rejected President Matteo Renzi resigned from office. So, how did fake news play a part? Renzi led Partito Democratico (The Democratic Party) whose biggest opponent is the anti-establishment Movimento 5 Stelle (Five Star Movement; also known as 'M5S').
Established in 2009, M5S was founded by web-strategist Gianroberto Casaleggio and comedian Beppe Grillo. The party has seen a meteoric rise and has progressed from winning just 7% in local elections (Emilia-Romagna, 2010) to winning 25.6% in the 2013 general election. Drawing on their populist anti-establishment supporters, M5S led the opposition to Renzi's referendum on the basis that the reform would give too much power to future prime ministers. M5S formed a campaign coalition with Lega Nord (Northern League), a devolution-focused party.
In exposés by the New York Times and BuzzFeed News, M5S were found to be disseminating Russian produced misinformation on a network of news sites. BuzzFeed found that the 'independent' sites TzeTze and La Casa had the same IP address, AdSense ID and Google Analytics ID as M5S' party site. Both TzeTze and La Casa reproduce fake news articles from Russian state-owned publications RT and Sputnik. As recently as 2014 La Casa described Crimea's annexation as a 'Russian invasion" however these views have transformed to pro-Putin sentiment in recent years.
As with in the US, Germany and the UK, the Russian state has been accused of injecting fake news into the Italian election to detriment non-populist establishment parties. A more important question, however, is not why the news was produced but why it was so successful in Italy.
News in Italy is very complex, including both in terms of how news is consumed and how it's produced. However, a combination of changing search trends, low media literacy and media trust and Italy's restrictive media landscape contribute to the success of fake news in Italy.
A study by Trevisan et al. last year found that recently in Italy there's been a shift towards people creating their own 'media ecologies'. This is characterised by using alternative media sources and political partys' official sites instead of using traditional media sources. The reason for this? Media trust in Italy is one of the lowest in the EU (39%) and is a product of restrictive and partisan media. TV and print media in Italy are dominated by the publicly owned RAI and the privately owned Mediaset, run by former prime minister Silvio Berlusconi.
According to Filippo Trevisan, Berlusconi has "sought to delegitimize the press outside of his media empire [and] has called out journalists critical of his tenure as prime minister" and abused his power as a politician to promote his private company while decreasing media trust.
Research in Italy from Doxa Research and Findeomestic in February found that of 750 people surveyed over 50% reported having fallen a fake news story and 13% said they had fallen victim to fake news more than five times. The results show a worrying media landscape in Italy. Italy's low media literacy is worsened by relatively low internet penetration (63%). TV news is still the main news source for the majority of people and as a result people aren't literate in terms of news that is created online and spread over social media/messengers.
To combat this, Facebook has rolled out a fact checking warning that alerts people when they try to share an article flagged as false by fact checkers. The warning allows you to "Share anyway" or click a link to consult the fact checker that has flagged the article.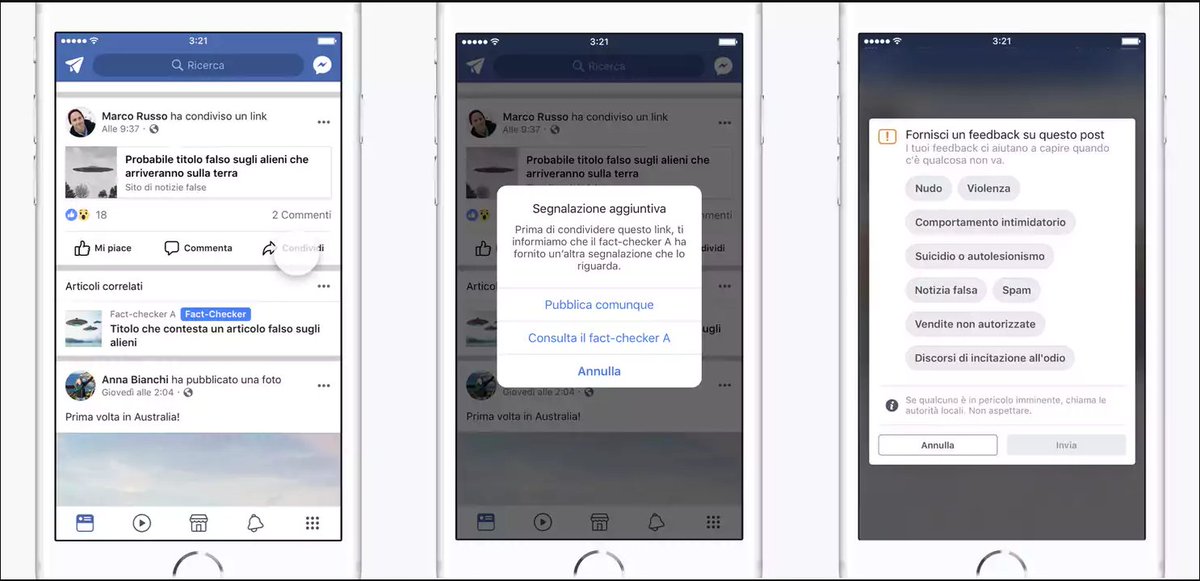 Finally, ending this thread are some example fake stories. The image here claims that this person is the sister of journalist and politician Laura Boldrini and has been secretly assisting immigrants in Italy. The person pictured is Krysten Ritter, star of Netflix's Jessica Jones.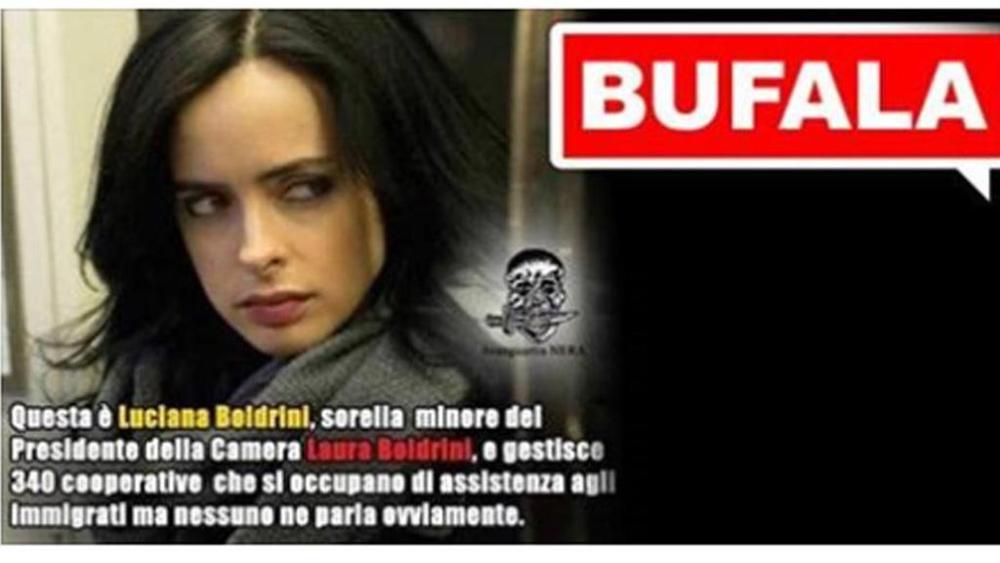 A fake poll attributed to Der Spiegel, the Daily Star Lebanon and the BBC claimed M5S were polling at 48% while other polls reported 28%. The image contains incorrect names for some of the parties and was refuted by journalist Enrico Mentana as "annoying and counterproductive".