This week's Fake News profile is on India. India's fake news problems mostly affect public rather than political life, making it an interesting case study and in April, India made headlines for banning fake news and then making a U-turn the day after due to wide backlash.
On April 2nd this year, India's Ministry of Information and Broadcasting (Ministry I&B) passed a rule that allowed the government to punish publishers of fake news and would allow the government to withdraw journalist's Press Information Bureau (PIB) accreditation. PIB accreditation is awarded on the basis of experience and a DBS-equivalent check and gives accredited journalists a card that allows them access to government buildings. Certain events, such as prime ministerial or presidential briefings, will also only allow PIB journalists.
India's fake news law would strip journalists of their accreditation if they published fake news but fake news was not defined in the documentation. Shekhar Gupta, the Editor-in-Chief of The Print, labelled the law a "breathtaking assault on mainstream media", as did many others.
India's approach to fake news shows a dangerous trend in fake news legislation – a 'ban first ask questions later' policy. This type of policy infringes on the freedom of the press and in a country such as the US would risk being a breach of an individual's constitutional rights. Also, a major issue with accreditation is that it risks turning into a full journalism licence system where only government sponsored journalists can report the news. The result would be shadow censorship from the state and a press that wouldn't speak out in fear of de-accreditation.
A unique aspect of fake news in India is that it is less damaging to democracy and politics and is more damaging to everyday people in India. Political fake news exists but it's overshadowed by the impact that personal fake news has – such as fake news spread through WhatsApp.
200-million people use WhatsApp in India and Pankaj Jain (founder Social Media Hoax Slayer) says fake news on WhatsApp is so successful because "most of our population from the villages, or with access to cheap data but no formal education, are users of WhatsApp, not Facebook or Twitter".
WhatsApp is so potent because it allows for manipulated photos and videos to be sent directly to people's phones and is a form of active fake news that is delivered straight to people, as opposed to passive fake news that has to be discovered by people on social media. Journalist Tanya Sukumar talks about WhatsApp "forwarding sprees", where WhatsApp users forward messages in the way Twitter users retweet tweets. She observed users in their 40s forwarding messages to over a dozen contacts, experiencing first hand the rapid dissemination of news.
According to Sukumar, being a source of new (even fake) information is a "dangerous ego-booster" and this 'identity messaging' whereby users message to maintain or build social credentials and to appear to be in the know comes at the cost of personal fact checking. These WhatsApp messages can have lethal consequences. In May 2017 in Jharkhand (central India) seven people were killed by mob violence as a direct result of WhatsApp rumours of child abduction. The murders prompted police to investigate where the fake rumours originated from.
One issue arises from this discussion of fake news in India – is WhatsApp a social media network? WhatsApp facilitates the dissemination of (fake) news to large audiences and can be seen as a 'social messenger', richer than a traditional text but not quite a social network.
[Update 26.07.2018] Since this was posted, WhatsApp in India has received a lot of attention in the media. With reports by The Guardian, CNN and the New York Times. Also, on July 25th after being given two notices from the Indian government, members of WhatsApp's senior management team have met with Indian government officials to discuss the sometimes lethal effects of fake news spread through WhatsApp.
One of India's most infamous fake news stories went viral just a few weeks ago. The news, that originated from a Facebook post, claimed that Raghuram Rajan, the former Governor of the Reserve Bank of India, had been appointed as the Governor of the Bank of England. The story was then picked up by MP and diplomat Shashi Tharoor who sent a tweet to his six million followers saying that Rajan's appointment was one step closer to "to complete a reverse colonization" in the UK. Tharoor later tweeted to clarify he was "taken in by fake news".
Finally, ending this week's fake news profile are some examples of fake news in India. The first image here is an article posted by 'BBC News Hub' (an imitation of BBC news) that claimed Prime Minister Narendra Modi was the 7th most corrupt world leader.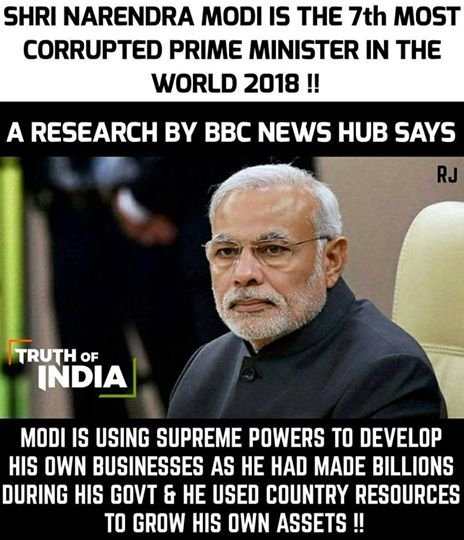 In March 2018, a controversial move by the government declared worshippers of Lingayatism a religious minority. A manipulated image changed the sign on a church from "Our Lady of Dolours Church" to "Lingayath Catholic Church" in an attempt to stoke racial and religious tensions.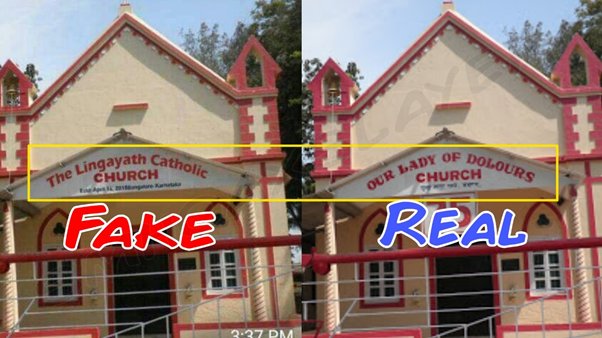 Finally, people in the press itself have been victims of fake news. The journalist and editor of the news magazine India Today Madhu Trehan was falsely quoted as having criticised the film 'Baahubali' for not having any Muslim characters, despite having never discussed the film.